Clé 1: Miroh – Everything you need to know about Stray Kids New Album
3 min read
The "2018 rookie of the year" boyband has released their new album on 25th March and with it, Stays can also enjoy their new music video Miroh, the main track from this album.
Here's is everything you need to know about Stray Kids New Album, Clé 1: Miroh – all the details, the tracklist and where to buy it.
This post contains affiliate links. For more information, see my disclosures here.
Stay Kids who?
If you don't know much about K-Pop, you may be wondering who these boys are. Stay Kids is a  is a nine-member boy group under JYP Entertainment that debuted 2018, but many of their fans have been following since before that.
In October 2017, fans could get to know better these boys hrough Mnet's reality show of the same name and see all their work before their official debut, which included Mixtape, their first mini debut.
Finally, on March 25, 2018, they officially debuted with the mini-album I am Not.
The meaning of Clé 1: Miroh
"Clé" is a French word for "key" and "miroh" is a Korean romanized word for "maze"(미로). With their 4th minialbum, Stray Kids has surprised again their fans with meaningful songs and messages.
But there are still many mysteries to unveil and fans are analyzing and therosizing about both songs and videos. Does the number 1 mean this the beginning of something bigger? Would Clé 1 have a sequel? Stays are going to keep looking for more clues about their next comeback, but for now we'll focus on this new album.
The tracklist
"Entrance" – 1:38
"Miroh" – 3:27
"Victory Song (승전가)" – 3:16
"Maze of Memories (잠깐의 고요)" – 2:55
"Boxer" – 3:20
"Chronosaurus" – 3:18
"19" – 3:25
"Mixtape #4" (CD only)
The group shared on Twitter an English version of the song's descriptions, explaining the song's purposes, allowing the listeners to have a better understanding of their songs.
Stray Kids(스트레이 키즈) <Clé 1 : MIROH>
TRACK LIST English ver.

2019.03.25 0AM "MIROH" M/V
2019.03.25 6PM "Clé 1 : MIROH"#StrayKids #스트레이키즈#Clé1_MIROH #MIROH#YouMakeStrayKidsStay pic.twitter.com/Y2EKBlb4IS

— Stray Kids (@Stray_Kids) March 18, 2019
Secret messages in Music Video Miroh?
On March 25 2019, their first year anniversary, Stay Kids released their new MV of their title track, . However, their music video shows more of a serious and rebellious vibe than a festive mood.
One thing that most Stray Kids fans love about them and their music is how intrigue and interesting are the messages they send through their songs and how it seems some their songs are correlated.
At the very beginning of the video, it seems as a political event. What it is Stray Kids message here? Stand up to authority? Speak up their minds? This is all just my assumption and my analysis of the video. If you want to add something to this or share your opinion, please feel free to add it to the comments.
Where to buy it online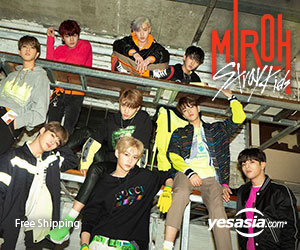 Here are some online shops where you can find Clé 1: Miroh.
What comes next?
After releasing their new album, Stray Kids will be working the next weeks to promote their album on TV Shows, performing their songs and participating in interviews. They already had their comeback stage at M Countdown on March 28, their anniversary, where they perform their title track, Miroh, and their side track, Victory Song. They also have visited the set of Idol Room and perform the title track. In addition, they recently had an appeareance on Idol Radio.
But their perfomances is not the only you content you will see of Stray Kids. A new comeback means more new content, the making of the Music Video, Vlive transmissions, dance practices. They will make sure Stays have enough upcoming things to be waiting for.
This is just the beginning for Stray Kids and their fans, so I hope great things will come for them in the future.
Please follow and like us: