K-Pop News: ATEEZ comeback is here!
4 min read
Great news, Atinys! ATEEZ is making their comeback very soon.
After their great success with their previous songs, the eight young men are climbing their way up to the top and everyone is looking forward to their new album.
Over the last month, ATEEZ's label, KQ Entertainment, has been releasing a lot of content, small teasers, for fans to look forward to this great moment. Because this is not just new music from the group, but also their first studio album.
Small intro to ATEEZ
For those of you who are new to this group, ATEEZ has been one of the hottest new K-Pop groups in the moment.
ATEEZ stands for 'A TEEnager Z'. The "A to Z" means everyone, and they expect all teenagers have fun listening to ATEEZ.
Since last October, where they released their debut album, the 8-member group has been gaining a lot of attention. Their songs Treasure and Pirate King from their album Treasure EP.1: All to Zero reached #7 at Gaon Album Charts, which is a very surprising achievement for a new K-Pop group.
But that's not the most surprising part. What no one could expect was their great success worldwide, specially in the USA. each of their first three EPs, all part of their Treasure album series, premiered on the World Albums chart, and they've seen several singles rank on the World Digital Song Sales chart
In addition, they have quite a big fanbase for a rookie group. Their fans are called ATINYS, a combination between ATEEZ and destiny.
Treasure EP. Fin: All to Action
This new album that it's coming out tomorrow is called Treasure EP. Fin: All to Action. The album will be the ending to their first music era that started with Treasure EP.1: All to Zero, continued with Treasure EP.2: Zero to One and a few months ago, it was followed by Treasure EP.3: One to All.
But as I mentioned before, All to Action will be different because it will be their complete album studio, so this means, we are having more songs than in their previous albums.
On September 29, the tracklist for the new ATEEZ album was revealed and it consisted of 11 songs, almost doubling their previous album One to All, that had 6 songs.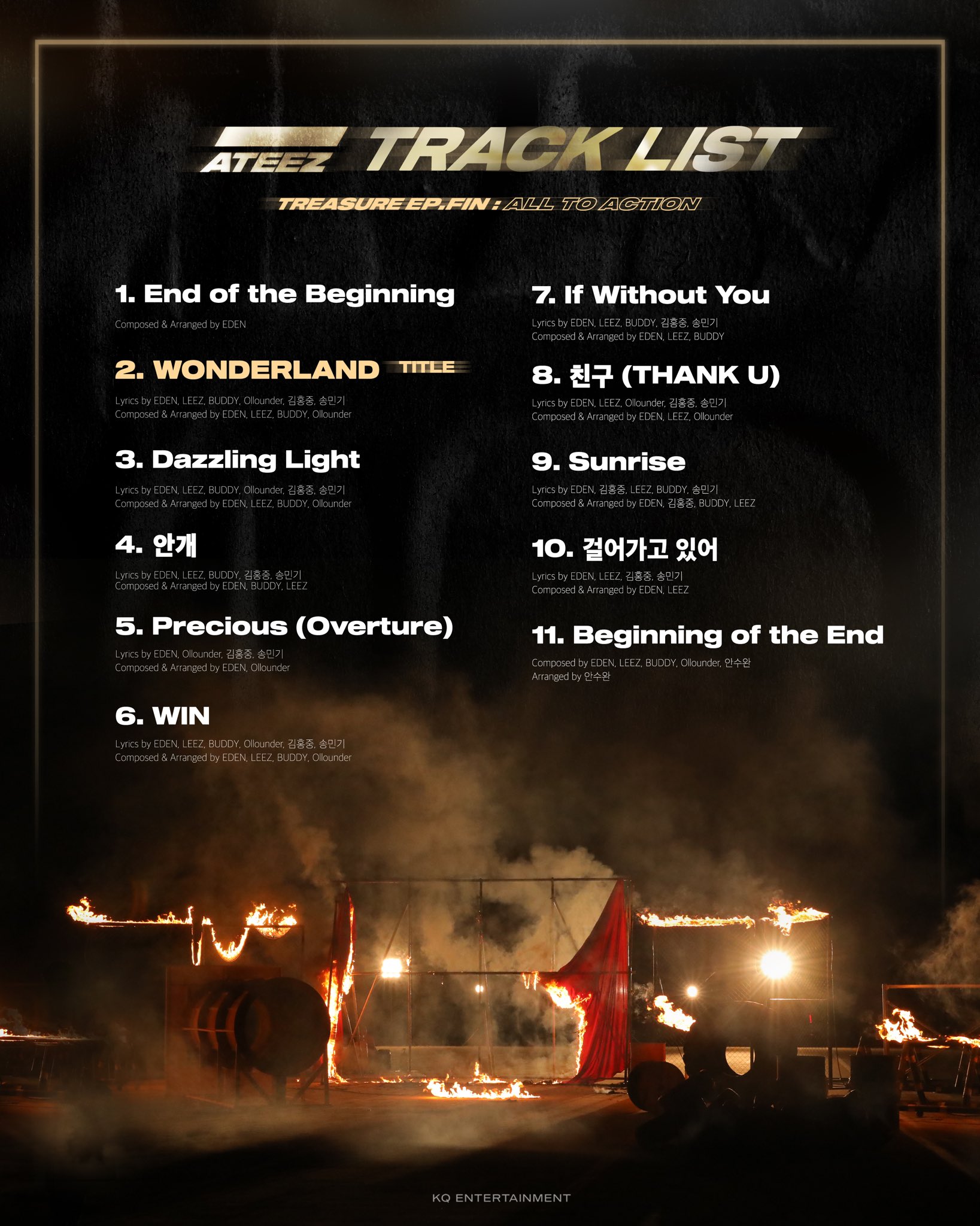 Their title track for this album is going to be Wonderland and we could already see some teaser for the music video. I will leave the video down below.
We also could see small teaser for all 8 members of the group and you can find them in their YouTube channel right here.
Where can I buy it?
The album will be available on Tuesday, October 8 at 6PM (Korean time) in all music streaming platforms. But for those you prefer the physical albums, there are also some options from where to buy it online. Here some of them that I find most reliable and legit online shops to buy K-Pop Merchandise.
The physical album is available in two versions: A version and Z version. Down below you can find the list for both option and also for the set for those who are into collection ATEEZ' albums.
What comes next?
After the release of this new album, it is very likely that we will see some other side of ATEEZ. From now on, they will no longer be consider rookies. And, considering all the achievements they have had in just a short period of time, we will have more from ATEEZ in the future.
One thing to take into consideration is that they are a group from a small company and sometimes it is very uncommon to see new groups that are not from the BIg3 companies (SM Entertainment, JYP Entertainment and YG Entertainment) to have so many fans and hits at the beginning of their career.
Besides that, ATEEZ and their label have signed a contract with a US-American company, RCA Records. They will be representing them in the States, so the group has more opportunities to meet their US-Atinys.
Your thoughts
So, did you know about ATEEZ before? If not, what do yout think about their music and their achievements? Do you think ATEEZ' new album will be a success just like the other ones?
If you would like to share your opinion about the K-Pop group ATEEZ and how they managed to grow so fast in the music industry, please feel welcome to write a comment.
---
References:
K-Pop Group ATEEZ Signs With RCA Records: Exclusive
ATEEZ Reflect on 1 Year Since Their Debut, 'Treasure' Album Series & More
Please follow and like us: