K-Pop News Today: DAY6's comeback and their new album, 'The Book of Us: Gravity'
4 min read
Here are today's news, K-Pop fans! The quintet DAY6 is having their comeback tomorrow and they have released their new album, The Book of Us: Gravity.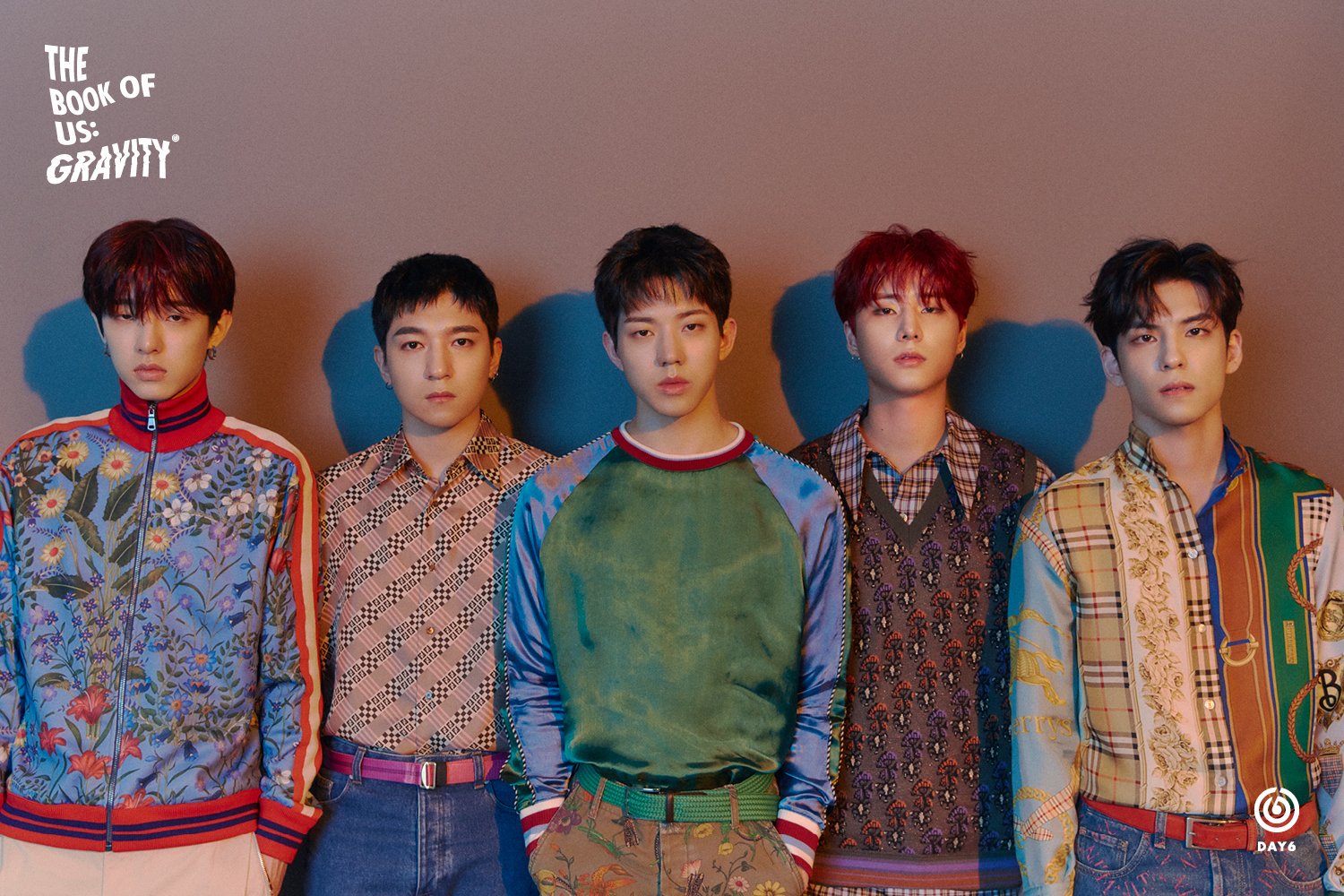 Before we dive into the topic, I want to make a brief introduction for those who don't know DAY6, introduce you to the members, their music, their style and more!
DAY6′ members and their albums
DAY6 consists of 5 members: Sungjin, Jae, Young K, Wonpil, and Dowoon. They have been in the K-Pop industry since 2015, and debuted under JYP Entertainment, one of the Big3 K-Pop companies.
They were originally six members but in 2016, JYP confirmed that Lim Jun Hyeok AKA Junhyeok wasn't part of DAY6 anymore and his contract was canceled due to personal reasons.
They debuted on September 7, 2015, with their first mini album The Day. However, this band differs from the big and famous K-Pop groups, because their music style is also different. DAY6′ members play their own instruments and prefer to develop these musical and instrumental rather than doing synchronized choreography. Due to this, they are also considered K-Rock (Korean Rock)
Since then, they have released two studio albums and five mini albums. Some of their most famous songs are Shoot Me, from their EP with the same name, You Were Beautiful, from Sunrise, and I Loved You, from Moonrise.
FUN FACT: DAY6 Meaning
The meaning behind the group's name is that because the band used to have six members. So, a week has seven days, which are the members plus their fans, and they are inseparable.
The Book of Us: Gravity
What is coming out today and the next few days?
As JYP has revealed on June 29 the prologue for The Book of Us and since then, fans have been waiting expectantly for this new album to come.


In the meantime, DAY6's label shared many new content about the album, including the concept photos for this comeback, the tracklist and more teasers to keep fans awaiting eagerly.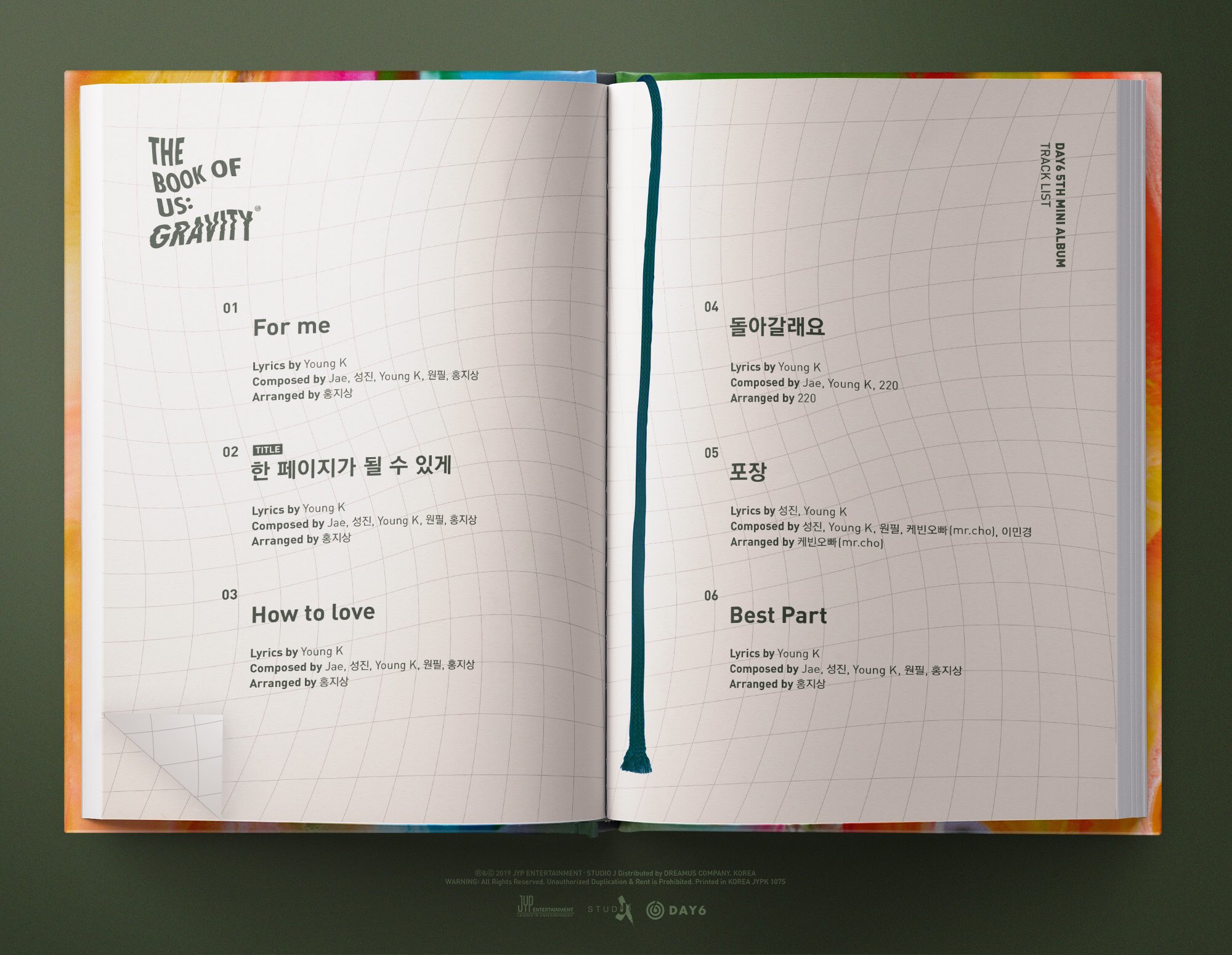 The Book of Us: Gravity is made of six songs, with Time of Our Life as the title track. Apart from that, we also got a new Music Video for the main song.
Where can I buy it?
Well, finally today, the album was released in all music streaming platforms and also physical versions of the album. Besides that, there will be two different versions for the physical albums, called SOUL and MATE.
I will give the official links to where you can buy it online, and see for yourself what the best options are for you. For Amazon, there are many different alternatives, so you can check them all here.
What can we expect in the future?
Well, we already have some news about what is coming next. During the previous day before the new album's release, JYP confirmed that DAY6 will be on tour for the next months to promote The Book of Us: Gravity over the world.
The tour will start in Seoul, South Korea, on August 9 and from then on, they will be to other two cities in South Korea, Daegu and Busan. After that, the will be traveling overseas to the other side of the world: USA, visiting seven cities there: New York, Boston, Miami, Dallas, Chicago, San Francisco and Los Angeles.
DAY6 will be also performing in other countries in Asia and also Europe, where the tour will end for now in Madrid, Spain, in January. See the complete list down below:
However, there is still some days before they go on tour, so it is very likely that we will see them in music shows, like MCountdown, Music Core and Music Bank.
If you still want to know more about DAY6, you have some doubts about them or want to leave your opinion about their music, please feel free to share your thoughts in the comment section.
Please follow and like us: